Prof Boojong Kim, President of Asia Marketing Federation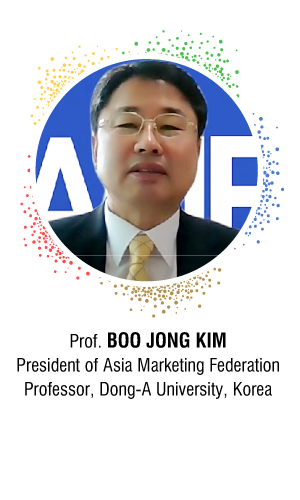 Dear Ladies and Gentlemen, Friends
It is my great honor to give a congratulatory address on the 1st Vietnam Marketing Day on behalf of Asia Marketing Federation.
Throughout 2020 and 2021, we are struggling against an uncertain and complicated environment under the pandemic crisis. As a business leader or marketing professional, we are trying to move our challenging spirit into more futuristic and opportunity-driven scope.
As we all know, the essence of marketing is to create better value for customers and build better relationship with customers. In that sense, I'd like to share the following suggestions for our customers.
– We need to track trends and build scenarios against the  worst case to survive under the pandemic crisis.
– We need to do marketing in more agile ways to meet the     customers' needs immediately in a rapidly changing market situation.
– We need to present our products and services with empathy and transparency so that we can take care of    customers with sincere hearts.
– We need to associate our brands with good faith to sustain our business from the long-term perspective.
– We need to adapt to new ways of working and communicating and transform our marketing strategy and     structure with exponentially changing technology.
In this difficult situation, we understand that the most critical role of marketing is to lead our organization and our customers towards opportunity beyond crisis.
Once again, thank you very much for your invitation in the 1st Vietnam Marketing Day and I wish Vietnam Marketing Association and all the guests a more prosperous future with customers.
Boojong Kim
President, Asia Marketing Association
Professor, Department of Business Administration, Dong-A University