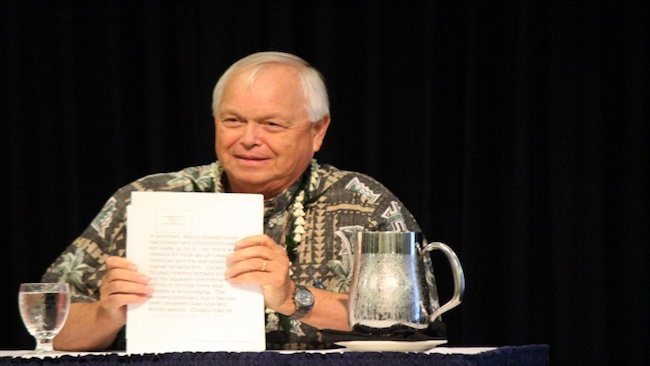 Professor Jack P. Suyderhoud: "Competition makes everyone better"
Owing to a higher, more stable income per capita and a more sustainable economic growth, a larger number of high skilled labour are required in Vietnam and it has generated hefty opportunities as well as stiff competition for international universities now and then.
Catching up with such an ever-increasing demand, a series of top prestigious universities such as RMIT, Fulbright, Vietnam-Germany (VGU), British University Vietnam (BUV), University of Hawaii and so on have come to Vietnam to transform the education sector of Vietnam by diversifying the type and level of training.
TheLEADER interviewed Professor Jack P. Suyderhoud, Professor Emeritus of Business Economics, Director, Shidler MBA Program at the University of Hawaii in Vietnam (VEMBA Program) on this trend and the competitive environment of international universities in Vietnam.
What is the implication of University of Hawaii in Vietnam? Is Vietnam a good opportunity for the enrolment of University of Hawaii?
Professor Jack P. Suyderhoud: We have been involved in Vietnam since 1997, when we started as a training program that was sponsored by the US government to train Vietnamese business professors on issues such as curriculum design and curriculum content.
In 2000, we started negotiating with Hanoi school of business, which is part of Vietnam National university, to do an executive MBA here. We are seriously committed to Vietnam and we expect to be a long term player in Vietnam.
I think we are the best MBA program in Vietnam, we're AACSB accredited, which is the American accreditation standard for business school.
Thus, for all of those reasons Vietnam is considered as a good opportunity for us because we want to be international and we have people who are interested in Vietnam and committed to Vietnam. It helps both of us, it's a win win situation.
What do you think of the increasing entries of foreign universities like Fullbright, RMIT, Vietnam-Germany (VGU), British University Vietnam (BUV) and others to set up their establishment and provide training on site?
Professor Jack P. Suyderhoud: We understand the nature of competition and competition generally makes everyone better. 
We recognise that we have a good product here in terms of what our education is and we know that other institutions will also bring their quality and resources to Vietnam. Overall, it is gonna be positive for Vietnam.
Is the tuition fee of Vietnam Executive MBA program of Hawaii the highest in Vietnam?
Professor Jack P. Suyderhoud: From my understanding, our current tuition fee is the highest but it also comes with a better quality.
Specifically, how high is the fee? And how long does it take to finish the program?
Professor Jack P. Suyderhoud: My staffs will know for sure but I think is $24,000 for a two years program.
Is the two year course for a bachelor degree?
Professor Jack P. Suyderhoud: No, two years cover the master course, MBA.
Why doesn't University of Hawaii pay attention to the bachelor training? In the future, do you think it is a potential for University of Hawaii to set up a campus here?
Professor Jack P. Suyderhoud: I don't think so, the bachelor training requires many courses and many faculties and we don't have enough resources for that. 
Moreover, there are plenty of other institutions that have already done that.
One of the business lesson that we learnt is that we stay focused on what we know what to do and how to do it.
We have an undergraduate program in Hawaii and some of our undergraduates spend time in Vietnam studying or doing an internship but I don't think it's gonna go in any deeper than that.
Does it mean that University of Hawaii does not plan to compete with other international universities like Fullbright, RMIT, Vietnam-Germany (VGU), British University Vietnam (BUV)?
Professor Jack P. Suyderhoud: We will only compete in the MBA program.
Among quite tough competition,what is the way of Hawaii university to dig up such a naive training market like Vietnam for the time being?
Professor Jack P. Suyderhoud: Since we do not have multiple programs so we mainly focus on the Executive MBA
Instead of using distant education, we bring our faculty here to teach the students. We also give students the opportunity to go to Hawaii to take classes if they want to.
We are different from perhaps an online university so that it gives our university a competitive advantage.
Even though our program is fairly expensive, we are still affordable about any MBA program elsewhere, plus our schedule allows our students to both work and pursue their education at the same time.
What do you envisage about the culture as well as the approach of Vietnamese students in an international environment such as Hawaii university?
Professor Jack P. Suyderhoud : I really enjoy Vietnamese students. Most of them are in a high position in their businesses, so when they come to the classroom, they bring interesting experiences.
One of the things that happen in business education is that there's a lot of sharing knowledge among the students, and the faculty helps stimulating that processes.
They have quite serious attitude but still, they are enjoyable to interact with.
Thus, I find the culture here in Vietnam to be actually more interesting than my students in Hawaii.
In the future, will the University of Hawaii expand a lot in Vietnam?
Professor Jack P. Suyderhoud : I cannot say anything for certain but I think we probably stay a niche program, especially if we have competition from other schools.
Certainly our program will not expand very much but there may be other programs coming such as nursing program, travelling program, management or journalism program.
Thank you very much.
By Ngoc Anh – The Leader