HCMC, Thursday December 08th 13:30 p.m. – 17:30 p.m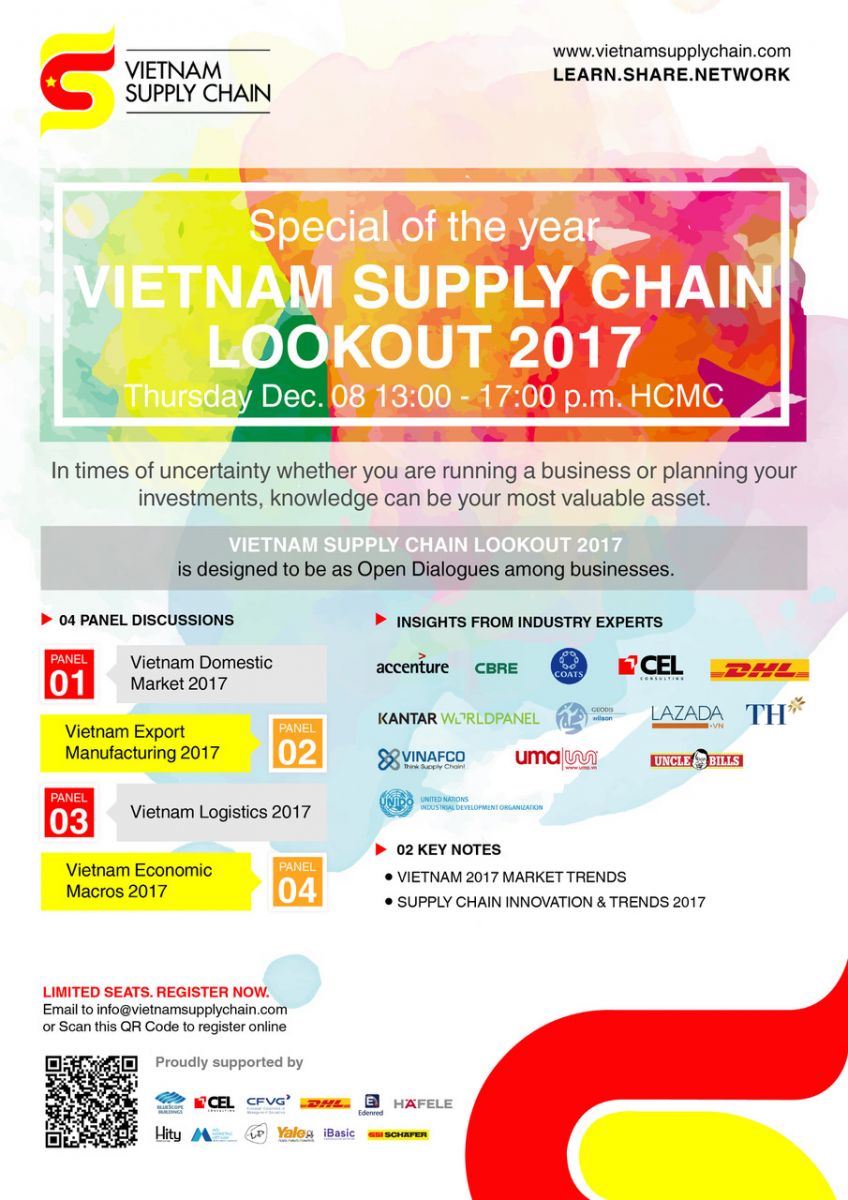 SPEAKERS
Dr. Eckart Dutz, General Director Pacific Partners (VN), Ltd
Eckart is General Director of Rapi B2B Office Solutions (formerly Cartridge World (since 2006)). He came to Vietnam in 1995 and has worked from 1996 – 2004 for Unilever in Vietnam, Thailand, Netherlands, Germany in various Supply Chain positions. Most recently as Regional Supply Chain Manager for Ice Cream for South East Asia. Next to Rapi, Eckart is also General Manager of Pacific Partners (VN) (since 2004), a Sourcing Company specialized in Fast Moving Consumer Goods (Food and Nonfood). That includes export activities to Markets in the Pacific Islands as well as the import of Nonfood products (Sole agent for UBL China) to Vietnam. Most recently he has launched the first Discount Stores under the "Uncle Bills" Brand in Ho Chi Minh City. Eckart received a PhD in Supply Chain Management from Mannheim University (Germany) and a Diploma in Business Administration as well as a Post Graduate Degree (Lic.rer.pol.) in International Economics. He is Co-Founder of the Vietnam Supply Chain Community and previously on the Boards of Advisors of the Vietnam Supply Chain Council as well as an Advisor to the Sourcing & Purchasing Club Vietnam. Furthermore he is Lecturer for the Executive MBA Programs of the RMIT and the Vietnam National University.
Julien Brun, Managing Partner, CEL Consulting
Julien is the Founder and General Director of CEL Consulting, the first international Supply Chain and Operations consulting firm in Vietnam. He is now managing a team of consultants who is fully involved in providing their expertise to procurement, manufacturing and logistics related businesses in the region. MSc in mechanical and system engineering (Technology University of Troyes, Ecole Nationale des Arts et Metiers, Paris), he gathered experience and know-how at several positions in product/process optimization in aeronautics (Airbus, Cooper tool) and automotive industry (Peugeot Citroen, Rover group) in France, England and Holland. Julien has spent as well 2 years in Africa, where he coordinated logistics and food distribution for >100,000p refugee camps in Africa, for the account of WFP (World Food Program) and UNHCR (High Commissioner for Refugees). From his arrival in Vietnam in 2005, Julien immediately felt lined up with local dynamism and developed the firm intention to support actively the country's industrial development. Beside consulting work, he is now lecturer in Lean Management and SCM in for Executive MBA program of CFVG Ho Chi Minh city. Recently, Julien has been voted to be the Vice President of French Chamber of Commerce Vietnam.
Gerald Glauerdt, Chief Operating Officer & Co-founder, Lazada Vietnam
Gerald Glauerdt is COO cum Co-Founder of Lazada Group (Vietnam) since May 2012. Lazada is the leading online shopping mall in South East Asia with operations in Vietnam, Thailand, Indonesia, Malaysia and The Phillipines. Before joining in Lazada Vietnam, he was Senior Manager at Rocket Internet Munich at German over 2 years. Gerald worked in consulting firms for over 3 years as consultant. He can speak fluently 3 languages: German, English and Spanish. He also got MBA from IESE Business School – University of Navarra.
Filip Jankovic, Country Manager, DHL Supply Chain Vietnam
Filip has over 15 years of highly diversified, international SMC experience. Originally from Serbia and educated in Germany, he commenced his career in Central and Eastern Europe with an international Logistics Service Provider, where he started as country manager and gradually advanced to regional management positions. Following his shift to retail, Filip spearheaded the international rollout and implementation of wide-ranging SCM principles for a DIY retailer. Before assuming his current role as Head of Supply Chain Metro Cash & Carry Vietnam in late 2011, he gained experience in a number of different retail/wholesale sectors managing their Logistics and Supply Chain operations across multiple European countries. Today, Filip leads a young and diverse team focusing on structural changes to create an integrated relationship model with Suppliers and Service providers with the mission to improve the end-to-end supply chain performance and to meet the needs of Metro's national operations. Filip is married and has two sons.
Marc Townsend, Managing Director, CBRE Vietnam
Marc Townsend is the Managing Director of CB Richard Ellis (Vietnam) Co, Ltd. He is responsible for servicing the property requirements of multi-national corporations in Vietnam and the implementation of property management systems into new and existing developments, including presentations to new clients. Mr. Townsend is an active speaker on Vietnam's real estate market including investment and development throughout Southeast Asia. Mr. Townsend's professional experience includes property sales & marketing, investment consultancy, and development consultancy. He is a well rounded property professional who has worked with major properties throughout Southeast Asia. In 1988, Mr. Townsend began his career in Asia at Vigers (HK) Limited where he specialized in Investment sales. He joined CB Richard Ellis in 1995 by opening their office in Manila. After working for a developer and large serviced office provider, Mr. Townsend opened CB Richard Ellis (Vietnam) Co., Ltd., in January 2003.
Fabrice Carrasco, Director, Kantar World Panel Vietnam 
Fabrice started his career in France in 1997 in the Retail industry, working for the AUCHAN Hypermarkets group. In 1998 he joined the TNS group (TAYLOR NELSON SOFRES) in France.
He is based in Vietnam since 2002 where he came to set-up a Consumer Panel for KANTAR WORLDPANEL. He is today the Managing Director for Vietnam, Philippines and Indonesia.
With more than 15 years working experience, combining Retail knowledge and Research expertise, together with a solid academic background (Masters in Business strategy and in Marketing & Communication obtained at Paris Sorbonne), Fabrice ensures FMCG companies benefit from the best insights for their marketing strategies in South East Asia.
Sundi Aiyer, Principal Director Supply Chain Practice, Accenture Consulting
Sundi work with Accenture clients and teams across ASEAN and the APAC region to help drive competitive advantage and sustained value through supply chain and operational innovation – enabled by breakthrough digital and technology capabilities across the extended value chain. Sundi brings over 25 years of industry and consulting experience across all aspects of supply chain management, including: demand sensing and shaping, e-commerce and digital innovations, logistics and fulfilment, supply chain analytics, digital supply networks and control tower, enablingtechnologysolutions. Prior to this role, Sundi has played different leadership roles at McKinsey's Asia Operations Practice, and the supply chain and logistics practices of Capgemini, EY, Andersen Business Consulting, and the SABRE Group, and built his early career foundation at Penske, BP, and Tecnova. 
Benoit Brule, Managing Director, Geodis Wilson Vietnam Co. Ltd
Sundi Aiyer, Principal Director, Accenture
August Wingardh, Chairman, UMA Vietnam
Florian BERANEK, Lead Expert Societal Responsibility & RBC, UNIDO Vietnam
Giang Nguyen Hoang, CEO, VINAFCO Vietnam
WHY SHOULD YOU JOIN?
In times of uncertainty whether you are running a business or planning your investments, knowledge can be your most valuable asset.
Vietnam LookOut 2017 is designed to be as Open Dialogues among businesses, including 04 Panel Discussions:
Panel 1 "Vietnam Domestic Market 2017"
Panel 2 "Vietnam Export Manufacturing 2017" 
Panel 3 "Vietnam Logistics & Technology 2017"
Panel 4 "Vietnam Economic Macros 2017" 
Key Notes
Vietnam 2017 Market Trends
Supply Chain 2017 Innovation & Trends 
This gathering will provide insight regarding what to expect in 2017 among different sectors in Vietnam from the perspectives of supply chains.
What do other businesses think of 2017?
What could we expect 2017 to be like?
Where is growth? Where is it high or low?
How will recent happenings impact 2017 businesses potentially?
What challenges could companies face in 2017?
What are the risks for 2017?
REGISTRATION
Registration fee: VND 500,000/member, VND 700,000/non-member, excluding VAT
Register online HERE or Email to info@vietnamsupplychain.com
Deadline: By 7 December 2016 17:00 p.m.
SPONSOR
Proudly sponsored by
Please e-mail info@vietnamsupplychain.com for sponsor, exhibition opportunities information
Sources: vietnamsupplychain.com